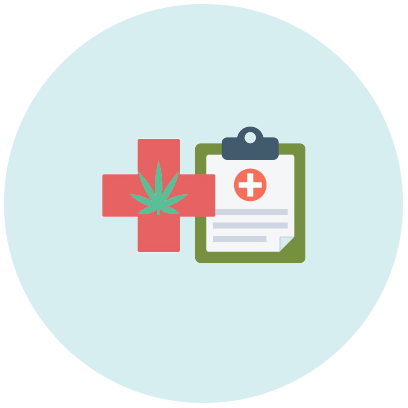 As one of the leading medical marijuana services in Alberta, Medical Marijuana Consulting (MMC) aims to be the top provider of medical assistance for Canadians wanting to improve their quality of life.
Our team of physicians, psychiatrists, and nurse practitioners is here to help answer your questions regarding medical cannabis in Canada and offer guidance in acquiring a medical marijuana prescription in Calgary. Since 2017, MMC has helped tens of thousands of people better understand medical marijuana and its potential benefits.
Access Free Medical Marijuana Consulting from Your Calgary Home
With new medical marijuana regulations firmly in place across Canada, citizens have more access to information and medical assistance than ever before—including medical marijuana consulting in Calgary. From epilepsy to ADD, fibromyalgia to insomnia, stress to chronic pain—studies have shown that there is potential for Canadians to get newfound relief with medical cannabis.
Medical marijuana is a relatively new phenomenon, so Canadians rightly have a lot of questions about the medical cannabis revolution. But MMC has all the answers, from the different strains, and potential side effects to the proper dosage instructions.
MMC believes that all Canadians should have access to medical marijuana and provides resources to help you better understand your options. With just a phone call, our team of Patient Advisors and nurse practitioners can answer any of your questions and offer advice to people that have concerns about the medical marijuana process.
We specialize in helping patients who have been injured in a motor vehicle accident, are a Canadian Armed Forces Veteran, first responders, RCMP, or seniors.
Calgary Cannabis Clinic: Easy 5-Step Process to Access Medical Cannabis
At MMC, we know how complicated medical processes can be. That's why we like to keep things simple. When you contact our cannabis clinic in Calgary, we'll guide you through our five-step process:
Using MMC virtual telemedicine platform, book a free consultation.
Have a follow-up consultation with our licensed healthcare practitioner to see which medical cannabis treatment plan works best for you and your medical needs.
Get your own individual medical cannabis prescription in Calgary.
Receive a one-on-one education session from one of our Patient Advisors and get registered with the proper licensed producer.
Get your medical cannabis sent to you by the licensed producer, mailed discreetly right to your front door.
That's it. At MMC, it's quick and easy for our clients.
About our Medical Marijuana Service in Calgary and across Alberta
With a licensed staff and qualified professionals in place, Medical Marijuana Consulting offers a white-glove, holistic approach to medical marijuana consulting in Calgary. We've earned a reputation helping thousands of Canadians and are now ready to offer you the best medical marijuana services in Alberta.
Whether you are an existing medical cannabis patient or someone completely new to it, our cannabis clinic in Calgary has the skills and know-how to assist you. From medical marijuana education, support, and assistance, we are ready to help you.
For more information about MMC's medical marijuana services in Alberta, please contact us for a consultation online, by phone at 1-844-312-5143, or by email at patientcare@medmc.ca. We look forward to hearing from you!