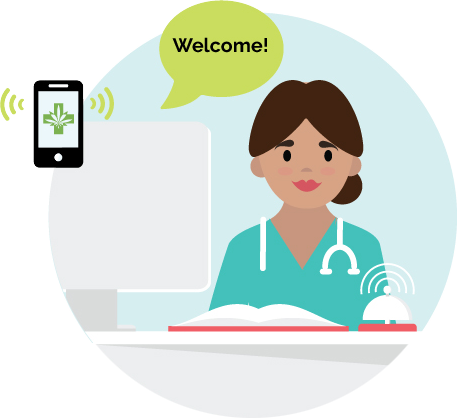 Accessing a cannabis clinic in Montreal can be the first step towards alleviating painful and debilitating symptoms you may be experiencing. As a top provider of medical marijuana consulting in Montreal, Medical Marijuana Consulting (MMC) has the explicit goal of ensuring that any patient that can benefit from medical cannabis has easy and simple access to treatment.
With medical cannabis in Montreal freely available, many have begun to experience the benefits of treatment. Unfortunately, many people are still uncertain of how best to access medical marijuana services in Quebec.
But as a premier medical cannabis clinic in Quebec, that's where MMC can help.
Easy Access to Free Medical Marijuana Consulting in Montreal
We never want finances to get in the way of patients seeking and getting the treatment they need. That's why we offer a free consultation to any and all patients looking to obtain a medical marijuana card in Quebec.
And as a top cannabis clinic in Montreal, we've developed and honed a five-step process that makes medical marijuana access easier than ever before.
5-Steps to Medical Cannabis Access at Our Montreal Cannabis Clinic
Don't miss out on the opportunity to better address your symptoms and illnesses with medical cannabis. We're there to guide and support you when accessing medical cannabis in Montreal through our five-step process:
Step 1: Get afree consultation over our confidential virtual telemedicine platform.
Step 2: Identify which medical cannabis treatment plan is best for you and your specific needs with the help of a licensed healthcare practitioner.
Step 3: Receive your medical cannabis prescription.
Step 4: Access a one-on-one education session with a knowledgeable Patient Advisor and also connect with an appropriate licensed producer.
Step 5: Have your medical cannabis shipped to your door swiftly and discreetly.
Our medical marijuana consulting in Montreal will expedite and facilitate your journey towards medical marijuana treatment.
Medical Marijuana Prescription Card in Quebec
There are a variety of conditions that would qualify you for a medical marijuana card in Quebec, including depression, ADD/ADHD, severe arthritis, spinal cord injuries, multiple sclerosis, and many other mental health issues as well as chronic pain conditions.
If you believe that medical cannabis can help you treat your symptoms, then you owe it to yourself to contact Medical Marijuana Consulting in Montreal.
About Our Medical Marijuana Services in Montreal, Quebec
At Medical Marijuana Consulting (MMC), we have one primary goal: to ensure that patients get the right treatment that best alleviates their symptoms.
To that end, we never apply a one-size-fits-all approach to your healthcare journey. Instead, we personalize all our services to best address every patient's unique needs.
We want every patient who can benefit from medical marijuana to have access to treatment; join our Ambassador Program and receive $15 for every person you refer to MMC that becomes a patient.
Get in touch with Medical Marijuana Consulting and get your personalized medical cannabis treatment plan. Book a consultation online, contact us at 844-312-5143, or email us at patientcare@medmc.ca.