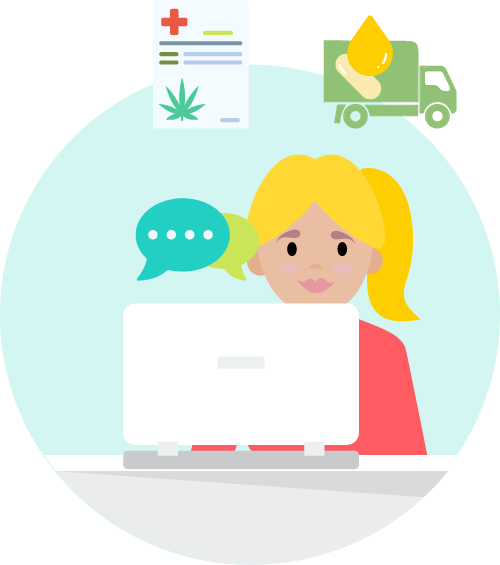 Get Free Medical Marijuana Consulting from Your Home in London
Medical Marijuana Consulting (MMC) specializes in prescribing medical cannabis to patients in London, the Greater Toronto Area, and across Canada.
Since 2017, we have provided tens of thousands of Canadians, from coast-to-coast, with the highest level of care and improved quality of life through access to medical cannabis prescriptions. MMC also provides personalized treatment plans, education, and ongoing support.
At MMC our experienced team of Patient Advisors works hard to provide white-glove service to patients, ensuring they receive the best treatment plans, support, guidance, and patient education possible.
Cannabis Clinic: Easy 5-Step Process to Access Medical Cannabis in London
With MMC, you can access medical cannabis from our cannabis clinic in London in just five easy steps!
Step 1: Book your free consultation with MMC on our confidential virtual telemedicine platform.
Step 2: Speak to one of our licensed healthcare practitioners to determine which medical cannabis treatment plan is best suited to meet the unique needs of your medical condition.
Step 3: Receive your medical cannabis prescription.
Step 4: Get a one-on-one education session with a member of our Patient Advisor team who will also help you find the right licensed producer.
Step 5: A licensed producer will send your medical cannabis to you in the mail, discreetly, to your door.
About Our Medical Marijuana Service in London and across Canada
At MMC, our holistic approach to prescribing medical cannabis helps our patients navigate the often-confusing medical marijuana system and get the access to medical marijuana they deserve.
We provide the following services:
Virtual Consultations: Free virtual consultations with one of our nurse practitioners from the comfort of your home.
Cannabis Prescriptions: Our nurse practitioners and Patient Advisors work with you to create a personal treatment plan.
Benefits Assistance: MMC can help you get the coverage for your prescription costs if eligible.
Special Support: We specialize in helping those who have been injured in motor vehicle accidents, are a Canadian Armed Forces Veteran, first responders, RCMP, or are dealing with symptoms and conditions like chronic pain, PTSD, anxiety, or depression.
MMC, Making Access to Medical Cannabis Simple
At Medical Marijuana Consulting, we understand that the process of getting a medical marijuana prescription can be dauting and challenging. We know because many of our team members are also medical cannabis patients. That's why we go above and beyond to help patients achieve successful outcomes with their treatment.
MMC offers virtual cannabis clinics that you can access from London or anywhere else in Canada. Whether you are new to medical cannabis or a returning patient, you can speak to one of our trained healthcare practitioners Tuesday through Saturday. Weekend and evening appointments are also available. All appointments are safely conducted virtually and confidentially, either by phone or video.
At MMC, we want to make access to medical cannabis as simple as possible for as many people as possible. Join our Ambassador Program and receive $15 for every person you refer to MMC that becomes a patient.
To learn more about Medical Marijuana Consulting in London and how you can secure a prescription from our cannabis clinic in London, Ontario as part of your personalized medical cannabis treatment plan, book a consultation online, contact us at 844-312-5143, or email us at patientcare@medmc.ca.