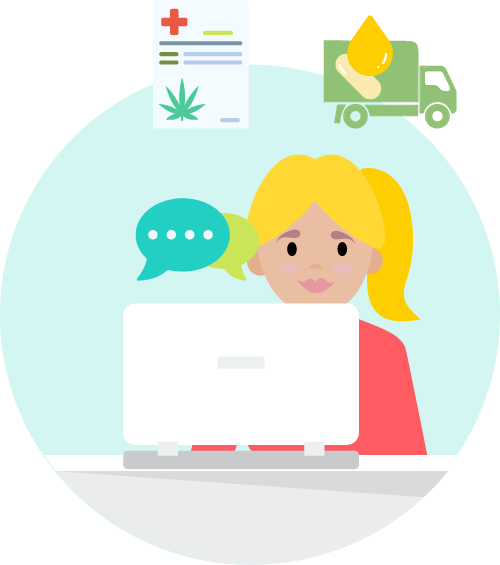 Free Medical Marijuana Consulting in Winnipeg and Across Manitoba
If you live in Winnipeg or anywhere else in Manitoba and want a prescription for medical marijuana or want to explore whether or not medical cannabis is right for you, Medical Marijuana Consulting (MMC) can help.
At MMC, we make access to medical marijuana simple. How do we do that? Our team of Patient Advisors understands how daunting and challenging it can be to navigate the medical marijuana process on your own.
We know because we've been there. That's why we go above and beyond to help our patients get the treatment they need. In fact, we take a holistic approach to medical marijuana consulting in Winnipeg; that means we're with you every step of the way.
Virtual Cannabis Clinic for Winnipeg Patients
For our patients in the Keystone province, we provide:
Virtual Consultations: Free virtual consultations with one of our nurse practitioners from the comfort of your home.
Cannabis Prescriptions: Our nurse practitioners and Patient Advisors work with you to create a personal treatment plan designed to meet your unique needs.
Benefits Assistance: A majority of extended health benefits in Manitoba cover medical cannabis. MMC can help you get coverage for your prescription costs (if eligible).
Special Support: We specialize in helping those who have been injured in a motor vehicle accident, are a Canadian Armed Forces Veteran, first responders, RCMP, or are dealing with symptoms and conditions like chronic pain, PTSD, anxiety, or depression.
Consultation for Grow-Your-Own License: We can help you apply for a Grow-Your-Own License with Health Canada, allowing you to legally grow your own plants for medical use.
Treatment Plans & Patient Education: One-on-one treatment plans means you get personalized information on how to consume medical cannabis, from formats to dosages. We also provide ongoing education on everything you need to know about medical marijuana.
Our Simple 5-Step Medical Cannabis Experience in Winnipeg
It doesn't matter where you live in Manitoba, MMC is the best place to get your medical Cannabis prescription. Simply follow our five easy steps.
Step 1: Book your free consultation with MMC on our confidential virtual telemedicine platform.
Step 2: Speak to one of our licensed healthcare practitioners to determine which medical cannabis treatment plan is best suited to meet your medical needs.
Step 3: Receive your medical cannabis prescription.
Step 4: Get a one-on-one education session with a member of our Patient Advisor team who will also help you find and sign you up with the right licensed producer.
Step 5: A licensed producer will send your medical cannabis to you in the mail, discreetly, to your door. We are proud partners with more than a dozen of Canada's top licensed producers, connecting you with the highest industry-standard medical cannabis.
Common Conditions Covered for Cannabis Prescriptions
Tens of thousands of Manitobans already have licenses to possess and use medical cannabis. What health conditions qualify you to use medical marijuana? That's between you and your physician.
Some medical conditions that may benefit from medical marijuana include:
ADD/ADHD
Alzheimer's Disease
Auto Accident(s)
Autoimmune Disorder
Back & Neck Problems
Cancer Treatment
Chronic Nausea
Colitis
Crohn's Disease
Eating Disorders
Gastrointestinal Disorders
Hepatitis C
HIV/AIDS
Inflammation
Insomnia
Irritable Bowel Syndrome
Kidney Failure/Dialysis
Migraines
Muscle Spasms
Muscular Dystrophy
Parkinson's Disease
Severe Arthritis
Sexual Dysfunction
Sleep Disorders
Spinal Cord Injury/Disease
Stress
MMC, Making Access to Medical Cannabis Simple
Medical Marijuana Consulting (MMC) makes it easy to access medical cannabis. As a trusted name in medical cannabis consulting, MMC has been providing patients from across Canada with access to medical professionals.
Our dedicated team of physicians, psychiatrists, and nurse practitioners can provide a prescription, offer you help to get you coverage for your prescription costs (if eligible), and refer you to a licensed producer.
At MMC, we want to make access to medical cannabis as simple as possible for as many people as possible. Join our Ambassador Program and receive $15 for every person you refer to MMC that becomes a patient.
To learn more about Medical Marijuana Consulting and how you can secure a prescription as part of your personalized medical cannabis treatment plan, book a consultation online, contact us at 844-312-5143, or email us at patientcare@medmc.ca.