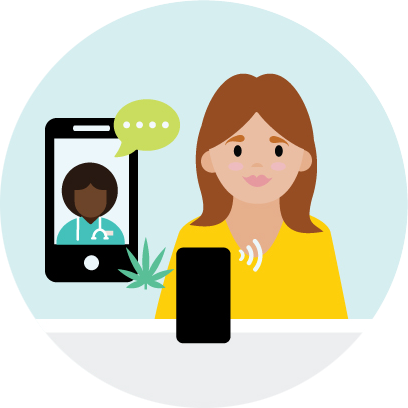 Our Holistic Approach to Medical Marijuana in Toronto and the GTA
As one of the country's leading providers of medical marijuana consulting in Toronto, the health professionals at Medical Marijuana Consulting (MMC) are passionate about helping Canadians of every walk of life determine how and when they can use medical marijuana to improve their lifelong wellness.
Our Patient Advisors take a holistic approach to medical marijuana. That means we're there with you every step of the way, helping you navigate the entire process, from receiving your medical marijuana authorization, to getting the support and guidance you need.
Our holistic approach includes:
Free, Virtual Consultations: Book a virtual appointment with one of our nurse practitioners at our marijuana clinic in Toronto.
Cannabis Prescription: Our nurse practitioners and Patient Advisors will help you create a personal treatment plan and are authorized to administer prescriptions.
Consultation for "Grow Your Own" License: We can help you apply for a "Grow Your Own" License with Health Canada.
Benefits Assistance: MMC can help you get coverage for your medical cannabis prescription costs, if eligible.
Treatment Plans & Patient Education: Our Patient Care team conducts ongoing education sessions that teach you everything you need to know about medical cannabinoids, from how to consume them, the various formats, and the proper dosages.
Specialist Support: We specialize in helping those who have been injured in a motor vehicle accident, are Canadian Armed Forces Veterans, first responders, RCMP, or are dealing with symptoms and conditions like chronic pain, PTSD, anxiety, or depression.
Get a Medical Marijuana Card in Toronto
Eligibility Criteria: Health Conditions That Qualify
Thousands of Canadians have licenses to possess and use medical cannabis. What health conditions qualify you to use medical marijuana? Like any other medical treatment, why you are using medical marijuana is between you and your healthcare practitioner.
Medical conditions that may benefit from medical marijuana include:
ADD/ADHD
Alzheimer's Disease
Anxiety
Arthritis
Auto Accident(s)
Autoimmune Disorder
Back & Neck Problems
Cancer Treatment
Chronic Nausea
Chronic Pain
Colitis
Crohn's Disease
Depression
Eating Disorders
Epilepsy
Fibromyalgia
Gastrointestinal Disorders
Hepatitis C
HIV/AIDS
Inflammation
Insomnia
Irritable Bowel Syndrome (IBS)
Kidney Failure/Dialysis
Migraines
Multiple Sclerosis
Muscle Spasms
Muscular Dystrophy
Parkinson's Disease
Post Traumatic Stress Disorder (PTSD)
Severe Arthritis
Sexual Dysfunction
Sleep Disorders
Spinal Cord Injury/Disease
Stress
MMC, Making Access to Medical Cannabis Simple
At Medical Marijuana Consultants, we go above and beyond to help patients achieve successful outcomes with their treatment through our virtual cannabis clinics online that you can access from Toronto and other GTA locations like Aurora, London, St. Thomas, or anywhere else in Canada.
At MMC, we want to make access to medical cannabis as simple as possible for as many people as possible. Join our Ambassador Program and receive $15 for every person you refer to MMC that becomes a patient.
To learn more about Medical Marijuana Consulting and how you can secure a prescription as part of your personalized medical cannabis treatment plan from our cannabis clinic in Toronto, book a consultation online, contact us at 844-312-5143, or by email at patientcare@medmc.ca.