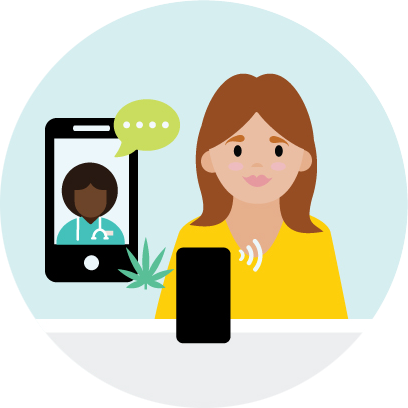 Medical Marijuana Consulting Services in Aurora
People use medical marijuana to treat a wide variety of different conditions and symptoms, including pain, nausea, anxiety, and lack of appetite. Medical cannabis can also be prescribed for other physical and mental health-related issues too.
Anyone that wants to use medical cannabis to help treat their conditions needs to get an official diagnosis from a doctor or healthcare practitioner; only then can they get an authorization for a medical marijuana.
Unfortunately, the process of getting a medical marijuana authorization can be complicated. And even though medical cannabis has been legal in Canada since 2001, the laws and regulations are always changing. On top of that, every province and territory has their own laws and regulations which govern, distribution, retailers, etc.
At Medical Marijuana Consulting (MMC), though, we make access to medical cannabis simple.
Our Cannabis Clinic in Aurora: How It Works
At MMC, our experienced team of Patient Advisors works hard to provide white-glove service to patients, ensuring they receive the best treatment plans and patient education possible.
Step 1
It all starts with booking your first consultation. Simply fill out an intake form, book a free online appointment on our confidential virtual telemedicine platform, and speak to one of our nurse practitioners—all from the comfort of home.
Step 2
Speak to one of our licensed healthcare practitioners to determine which medical cannabis treatment plan is best suited to meet the unique needs of your medical condition. Our nurse practitioners will work with you to find a personalized treatment plan that works for you.
Step 3
Receive your medical cannabis prescription.
Step 4
Get a one-on-one education session with a member of our Patient Advisor Team who will also help you find the right licensed producer. At Medical Marijuana Consulting, we're partnered with more than a dozen of Canada's top licensed producers and are proud to connect our patients with medical cannabis that meets the highest industry standards.
Step 5
Once you have your personalized prescription, a licensed producer will send your medical cannabis to you in the mail, discreetly, to your door.
Health Conditions That Make You Eligible for a Medical Cannabis Prescription in Aurora
If you have any of the following health conditions, your doctor may be able to provide you with a prescription for medical marijuana.
ADD/ADHD
Alzheimer's Disease
Cancer
Chronic Nausea
Colitis
Crohn's Disease
Eating Disorders
Fibromyalgia
Gastrointestinal Disorders
Hepatitis C
HIV/AIDS
Irritable Bowel Syndrome
Kidney Failure/Dialysis
Migraines
Muscle Spasms
Muscular Dystrophy
Parkinson's Disease
Sexual Dysfunction
Sleep Disorders
Spinal Cord Injury/Disease
MMC, Making Access to Medical Cannabis Simple
At Medical Marijuana Consulting, we understand that the process of getting a medical marijuana prescription can be dauting and challenging. We know because many of our team members are also medical cannabis patients—that's why we go above and beyond to help patients achieve successful outcomes with their treatment.
To learn more about Medical Marijuana Consulting and how you can secure a prescription as part of your personalized medical cannabis treatment plan, book a consultation online, contact us at 844-312-5143, or email us at patientcare@medmc.ca.