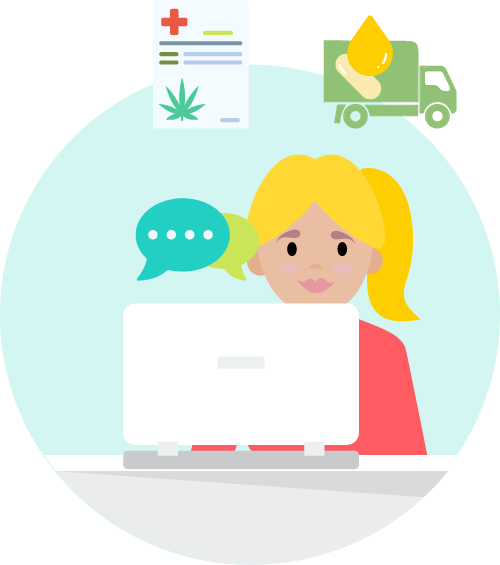 Every day, thousands of people enjoy the potential health benefits of medical cannabis. Medical Marijuana Consulting (MMC) is an industry-leader when it comes to helping patients access and understand cannabis and how it can play a role in treating a variety of conditions. If you're considering medical cannabis in Vancouver, MMC will help you every step of the way.
Work with a top medical cannabis clinic in Vancouver and get fast and easy access to treatments that are best for you.
Medical Marijuana Consulting Service in Vancouver
We've been helping patients access medical marijuana prescriptions in B.C. and across Canada since 2017. In that time, we've helped thousands of Canadians obtain medical marijuana to help treat their symptoms and conditions.
Our personalized care and treatment plans ensure that you're receiving the care and attention you deserve throughout the process. Benefit from custom-built treatment plans, education, and ongoing support.
Get help from an experienced team of Patient Advisors when trying to:
• Access a medical marijuana card in B.C.
• Access a medical marijuana prescription in B.C.
• Understand medical cannabis/marijuana treatments
• And more
Cannabis Clinic in Vancouver: 5-Step Process to Get Your Medical Marijuana
Getting a prescription for medical marijuana in British Columbia has never been simpler. Our five-step process makes accessing a medical cannabis prescription in Vancouver and the rest of the province painless:
Step 1: Receive a free consultation with MMC on our confidential virtual telemedicine platform.
Step 2: Consult with one of our expert licensed healthcare practitioners to determine which medical cannabis treatment plan is the right one for your healing journey.
Step 3: Receive your medical cannabis prescription.
Step 4: Enjoy a one-on-one education session with one of our expert Patient Advisors who will also pair you with an appropriate licensed producer.
Step 5: A licensed producer will ship your medical cannabis to your door. Our service is discreet and fast.
Eligible Health Conditions for Prescriptions
A medical marijuana prescription in Vancouver can be a suitable treatment for a variety of conditions, including:
ADD/ADHD
Alzheimer's Disease
Cancer
Chronic Nausea
Colitis
Crohn's Disease
Eating Disorders
Fibromyalgia
Gastrointestinal Disorders
Hepatitis C
HIV/AIDS
Irritable Bowel Syndrome
Kidney Failure/Dialysis
Migraines
•Muscle Spasms
Muscular Dystrophy
Parkinson's Disease
Sexual Dysfunction
Spinal Cord Injury/Disease
About Medical Marijuana Consulting Services in Vancouver
At Medical Marijuana Consulting, our mission is to pair patients with the treatment that has them feeling their healthiest. We never take a one-size-fits-all approach, instead we tailor all our services to meet the direct and unique needs of each individual patient we consult with.
Trust one of the most elite medical cannabis clinics in Vancouver and benefit from our industry-leading patient service.
We want every patient who can benefit from medical marijuana in Vancouver and B.C. to have simple access; join our Ambassador Program and receive $15 for every person you refer to MMC that becomes a patient.
Get in touch with Medical Marijuana Consulting and start building your personalized medical cannabis treatment plan from our cannabis clinic in Vancouver. Book a consultation online, contact us at 844-312-5143, or email us at patientcare@medmc.ca.