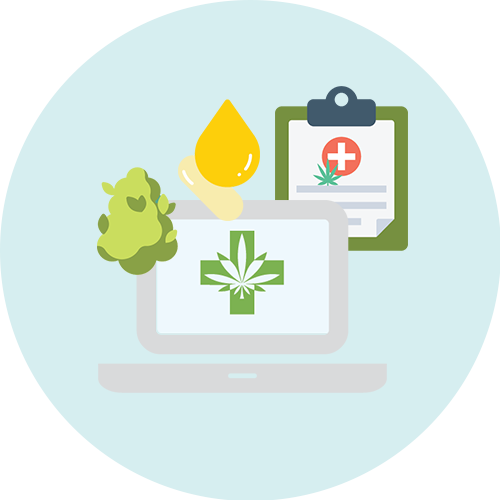 Free Medical Marijuana Consulting in Edmonton and across Alberta
As one of Canada's growing and most reputable medical marijuana consulting clinics in Edmonton, Alberta, Medical Marijuana Consulting (MMC) provides holistic cannabinoid medical clinic services to Edmonton and other parts of Alberta.
While medical cannabis had been legal in Canada since 2001, many people are still unsure about the benefits of medical marijuana and lack therefore lack the education and accessibility to cannabis. MMC is there for its Edmonton clients. We can guide you through the medical cannabis process from start to finish.
We offer free medical marijuana consulting to all of our clients throughout Canada and take the time to work with both new and established medical cannabis patients step-by-step, noting their needs, any questions they have, and making recommendations along the way.
Virtual Cannabis Clinic for Edmonton Patients
As an added convenience, MMC aims to help clients from the comfort of their own home. We've added technology to our skillset as a way to make the consulting process easier for you. Our team can connect with you electronically and assess you from your own home base, providing our services virtually yet comprehensively.
Make an appointment with one of our trained healthcare practitioners via phone or video, Tuesday through Saturday. For your convenience, we also offer weekend and evening appointments.
Our Simple 5-Step Medical Cannabis Experience in Edmonton
Many people think that the process of getting medical cannabis is complicated. But MMC has got it down to a quick five-step process for our clients:
Call Medical Marijuana Consulting in Edmonton to book your free consultation on our virtual telemedicine platform.
Confidentially connect with a licensed healthcare practitioner about your specific medical needs and construct a medical cannabis plan that's right for you.
Get a medical cannabis prescription sent to you.
Speak with our Patient Advisor team for your own one-on-one Education Session before being provided a licensed producer.
Receive your medical cannabis from the licensed producer, sent by mail with the utmost discretion directly to your door.
Common Conditions Covered with Cannabis Prescriptions
Studies have shown that medical cannabis can help treat or alleviate symptoms of many conditions, including:
ADD/ADHD
Alzheimer's Disease
Cancer Treatment
Chronic Nausea
Chronic Pain
Eating Disorders
Fibromyalgia
HIV/AIDS
Insomnia
Irritable Bowel Syndrome (IBS)
Kidney Failure/Dialysis
Migraines
Parkinson's Disease
Severe Arthritis
Sexual Dysfunction
Sleep Disorders
Stress
This is just a partial list. No matter what condition you are curious about, MMC can assist you with inquiries about medical cannabinoid treatment right from your home.
Book an Appointment for Medical Marijuana Consulting in Edmonton
Getting a medical marijuana prescription doesn't need to be complicated. At Medical Marijuana Consulting, we are experts at helping Veterans of the Canadian Armed Forces, first-responders, motor vehicle accident patients, and seniors access medical cannabis in Edmonton, Alberta.
To learn more about our medical marijuana services in Alberta and how we can help you create your own personalized medical cannabis treatment plan from our cannabis clinic in Edmonton, please book a consultation online, contact us at 1-844-312-5143, or email us at patientcare@medmc.ca.
Not only can we help you secure a prescription, but we can also assist you in paying for the costs through insurance (if eligible) and help you apply for a "grow your own" license.