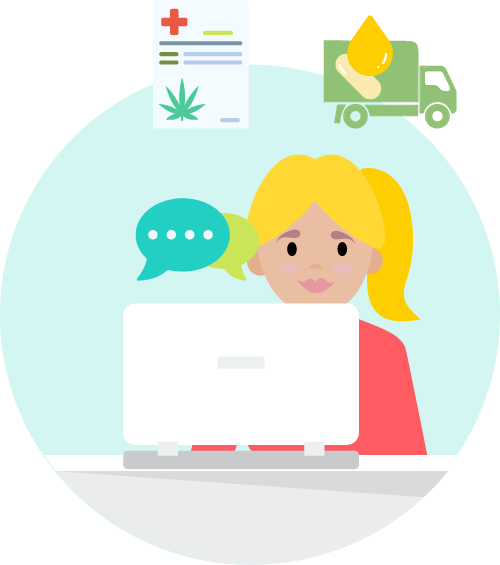 Free Medical Marijuana Consulting in St. Thomas
Despite Canada making medical marijuana legal and available to its citizens, many people actually turn it down as a health or pain relief option. Why? Because there is a stigma associated with medical marijuana.
At Medical Marijuana Consulting (MMC), we want to end that stigma.
Medical cannabis in St. Thomas can actually be an effective treatment option for many ailments such as chronic pain, anxiety, PTSD, depression, ADHD/ADD, and more. You just need to know how to access it.
At our medical cannabis clinic in St. Thomas, we provide virtual consultations on how medical cannabis works, what health issues it can be used for, and how you can set up a personalized treatment plan to help improve the quality of your life. If knowledge is power, then Medical Marijuana Consulting seeks to empower its clients to the maximum.
How Our Cannabis Clinic in St. Thomas Works
MMC's cannabis health clinic is the best place to get your medical cannabis prescription in St. Thomas. Simply follow our five easy steps.
Step 1: Book your free consultation for medical marijuana consulting in St. Thomas on our confidential virtual telemedicine platform.
Step 2: Speak to one of our licensed healthcare practitioners to determine which medical cannabis treatment plan is best suited to meet your medical condition.
Step 3: Receive your medical cannabis prescription.
Step 4: Get a one-on-one education session with a member of our Patient Advisor Team at our cannabis clinic in St. Thomas who will also help you find the right licensed producer.
Step 5: A licensed producer will send your medical cannabis prescription to you in the mail, discreetly, to your door.
Medical Cannabis Services in St. Thomas and across Canada
Medical Cannabis Consulting is proud to help patients seeking medical cannabis in Canada get the support and guidance they need. We provide white-glove services to patients in St. Thomas and the surrounding areas and specialize in helping veterans of the Canadian Armed Forces, motor vehicle accident (MVA) patients and seniors.
We are also proud partners of more than a dozen of Canada's top licensed producers and go above and beyond to connect our patients with the highest-quality medical cannabis in St. Thomas.
To learn more about Medical Marijuana Consulting and how you can secure a prescription as part of your personalized medical cannabis treatment plan from our cannabis clinic in St. Thomas, book a consultation online, contact us at 844-312-5143, or by email at patientcare@medmc.ca.
Have you had a great experience with our medical marijuana consulting in St. Thomas? You can join our Ambassador Program and receive $15 for every person you refer to MMC that becomes a patient. We love hearing patient success stories and knowing that we were a part of their journey to wellness. Helping patients is what we do.