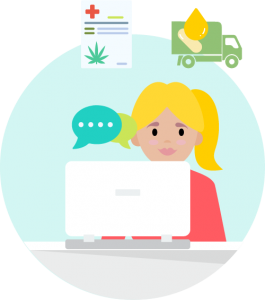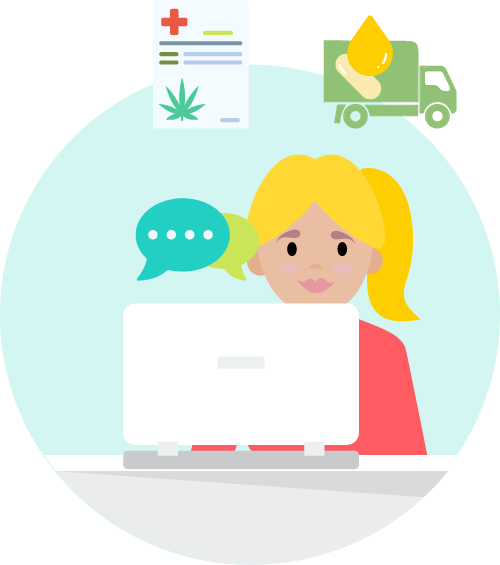 If you are looking for a medical marijuana consulting service in Regina, a medical cannabis document, or are wondering how the whole process works, Medical Marijuana Consulting (MMC) takes a holistic approach to medical marijuana consulting in Regina.
We can connect you with one of our nurse practitioners virtually for a free consultation and guide you every step of the way when seeking a medical cannabis prescription in Canada.
How Our Cannabis Clinic in Regina Works
MMC is the best place to get your medical cannabis prescription. Simply follow our five easy steps when you contact our cannabis clinic in Regina.
Step 1: Book your free consultation with MMC on our confidential virtual telemedicine platform.
Step 2: Speak to one of our licensed healthcare practitioners to determine which medical cannabis treatment plan is best suited to meet your medical needs.
Step 3: Receive your medical cannabis prescription from the top cannabis health clinic in Saskatchewan.
Step 4: Get a one-on-one education session with a member of our Patient Advisor team who will also help you find the right licensed producer.
Step 5: A licensed producer will send your medical cannabis to you in the mail, discreetly, to your door. We are proud partners with more than a dozen of Canada's top licensed producers, connecting you with the highest industry-standard medical marijuana in Regina.
Medical Cannabis Services in Regina and across Saskatchewan
At MMC, our holistic approach to prescribing medical cannabis in Regina helps our patients navigate the sometimes-confusing medical marijuana system and get the access to the medical marijuana they deserve.
We provide:
Virtual Consultations: Free virtual consultations with one of our nurse practitioners from the comfort of your home.
Cannabis Prescriptions: Our nurse practitioners and Patient Advisors work with you to create a personalized treatment plan designed to meet your unique needs.
Benefits Assistance: MMC can help you get insurance coverage for your prescription costs, if eligible.
Special Support: We specialize in helping those who have been injured in a motor vehicle accident, are a Canadian Armed Forces Veteran, first responders, RCMP, or are dealing with symptoms and conditions like chronic pain, PTSD, anxiety, or depression.
MMC, Making Access to Medical Cannabis Simple
The process of getting a medical marijuana prescription in Regina can be overwhelming and challenging. At Medical Marijuana Consulting, we know because many of our team are also medical cannabis patients—that's why we go above and beyond to help patients achieve successful outcomes with their treatment.
MMC offers virtual medical marijuana consulting that you can access from Regina, Saskatoon, Moose Jaw, Swift Current, Lancer, Prince Albert, or anywhere in Saskatchewan.
At MMC, we want to make access to medical cannabis as simple as possible for as many people as possible. Join our Ambassador Program and receive $15 for every person you refer to MMC that becomes a patient.
To learn more about Medical Marijuana Consulting's cannabis health clinic in Saskatchewan and how you can secure a prescription for medical marijuana in Regina as part of your personalized medical cannabis treatment plan, book a consultation online, contact us at 844-312-5143, or email us at patientcare@medmc.ca.